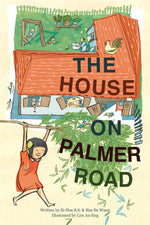 About this book: It is 1930s Singapore and war is raging in China and Europe. But for eight-year-old Sing and her nine brothers and sisters, life is carefree and fun at their wooden house in Palmer Road where they live with Mother, Father and Ah Seem. Join them as they go frog hunting, escape fierce guard geese, visit a 'coolie room', and head off on other exciting adventures in pre-war colonial Singapore.
This playful, fun-filled children's book is based on the childhood experiences of 83-year-old first time author, Si-Hoe S.S., who is the 'real' Sing. In The House on Palmer Road, young readers will fall in love with the large but lovable family, and relive a magical though tumultuous time in Singapore's past. Within the series of charming short stories, children will also gently encounter aspects of Singapore's history through vividly-described landscapes, snatches of overheard conversations among the grown-ups, and the many people they 'meet', from itinerant hawkers to coolies and night soil men. The book is published with the support of the National Heritage Board.
Recommended by our elves because:
It is a gentle introduction to a pre-war Singapore, heightened and enhanced by its illustrations, while never quite forgetting that war is around the corner.
Its semi-autobiographical nature gives it a good sense of historical detail as well as an authentic perspective.
All the locations mentioned can still be found on maps today, which would be fun to help children locate the past in relation to the present.
It features plenty of age-appropriate adventure and innovation, such as Sing's little lantern that will never burn.
For
: Ages 7 and up who like adventure and exploring the past!