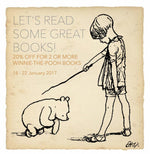 LET'S READ SOME GREAT BOOKS
18 - 22 January A special promotion to celebrate A. A. Milne's birthday.
Happy birthday, A. A. Milne, creator of Winnie-the-Pooh and the Hundred Acre Wood!
In celebration, Books Ahoy! and Woods in the Books are offering 20% off for 2 or more Winnie-the-Pooh titles purchased, including the 90th anniversary editions of all the original stories.