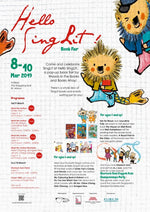 Hello SingLit! Book Fair
8 - 10 March 2019
FORUM The Shopping Mall B1 Atrium
Celebrate SingLit at Hello SingLit!, a book fair by Woods in the Books and Books Ahoy! There's a whole slew of SingLit books and events waiting just for you!
For ages 4 and up!
Meet your favourite SingLit authors and illustrators at Hello SingLit! Discover the lift-the-flap world of Linda Yan's CANDY AND FRIENDS and come see the authors and illustrators of picture books MY COLOURING BOOK IS RUINED and DO YOU SEE WHAT I SEE talk about each other's books with Jill Lim, Chloe Chang, Felix Cheong, and Anngee Neo.
For ages 7 and up!
Sim Ee Waun and Joyceline Tully are back to talk about new book THE HOUSE ON SILAT ROAD, and Neil Humphreys will be reading from his newest book for older readers, A ROYAL PAIN IN THE CLASS, of the brand new Princess Incognito series!
And if you love Sherlock Sam and authors A.J. Low, save the date for a very special SHERLOCK SAM KAYPOH KIDS CHAMPIONSHIP PARTY! Play games, earn clues, and crack the case with Singapore's Greatest Kid Detective!