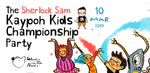 The game's afoot! Earn clues, solve puzzles, and win as many games as you can with Sherlock Sam, Watson, and the Supper Club at the Hello SingLit! Pop Up Book Fair! What's more, the world-famous A. J. Low will be there to meet you and sign every single Sherlock Sam book you own!
Wrack your brains and tackle the Sherlock Sam Trivia Quiz of the Decade! Colour-fu your way through to attack Sherlock Sam Drawing Game of the Century! Win games and crown your team as Kaypoh Kids Champions of the Millennium! You only live once! Come and join the GREATEST Sherlock Sam Party that has EVER BEEN!
Who: Ages 7 and up
When: Sun 10 March, 4.00PM - 6.00PM
Where: B1 Atrium, FORUM The Shopping Mall
Ticket: FREE with every $15 purchase of SingLit titles at Woods in the Books or Books Ahoy!
OR Book* your slot in advance at woodsinthebooks.peatix.com
*Tickets bought via Peatix include $15 same-day Hello SingLit! store credit for SingLit titles only.