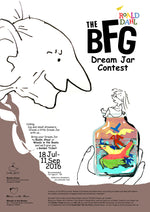 The deadline for The BFG Dream Jar Contest is coming up soon! Remember to drop off your Dream jars at Woods in the Books or Books Ahoy! before 11 September. The bookshop elves have been hard at work making their own Dream Jars. This is our step-by-step guide to making a Dream Jar.
Step 1: Design a dream!
Step 2: And pop it into a jar! (with lots of yummy leaves to eat)
Step 3: Listen to all the dream's buzzing-humming noises.
Step 4: Write them all down on your label and attach it to your jar.
 Voila! A Very Hungry Dream Jar fit for a queen.