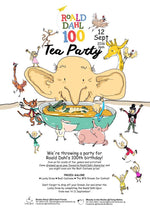 Monday, 12 September 2016
3pm Books Ahoy!, Forum #02-03
Suitable for ages 6 and up!
Register here: https://goo.gl/forms/82XJCjc3tyzuzzs93

We're throwing a party for Roald Dahl's 100th BIRTHDAY! Join us for scads of games, fun, and activities! If you come dressed as your favourite Roald Dahl character and, might even win the Best Costume prize!