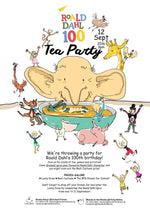 We threw a splendiferous birthday party for Roald Dahl's 100th birthday at Books Ahoy! on 12 September. Dream Jars, Costumes, and Roald Dahl quizzes!
So many enthusiastic fans turned out for the party in style! From Willy Wonkas to Oompa Loompas, BFGs to Sophies and Matildas, choosing the winners for Best Costume was super tough!
Our Roald Dahl activity corner hopped with artists drawing the things in Mr Twit's Beard and word search enthusiasts looking for the ingredients for George's Marvellous Medicine.
Choosing the winners for our contests was so hard that we couldn't pick just one winner! To all the winners of the Best Contest, the BFG Dream Jar Contest, and our Lucky Draw, heartiest of congrats!
We also did some searching of our own for the Biggest Roald Dahl Fan with the Roald Dahl 100 Book Quiz! We hope all our partiers had an absolutely splendiferous time! Stay tuned for our next event!
For more photos, check out our Facebook album.