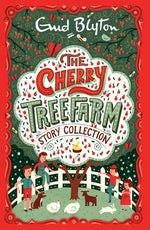 There's something special about each and every book at Woods in the Books, but in our new blog feature, Elf Reads, our bookshop elves want to let you know what they love about the books on our shelves. Today we're starting with Enid Blyton's The Cherry Tree Farm Story Collection.
About this book: Start reading these stories, and you'll start to wish you could live on a farm... Benjy, Penny, Rory and Sheila are staying with their aunt and uncle at Cherry Tree Farm. They feed the animals, explore the countryside and search for the mysterious man who lives in the woods -- and you can be sure that they get into mischief along the way. The three Farm books, published together here, are firm favourites with Blyton fans. Recommended by our elves because...
It's chock full of animals, from pet squirrels and wild badgers to farm hens, horses, sheep, and sheepdogs!
Tammylan, the wild man of the woods, and his animals friends show children how to coexist with nature (though I disagree with their opinions about rats)
This trilogy is a gentle, if a bit too perfect, glimpse into British countryside and farming life
The multiple perspectives of the four children give readers insight into the inner thoughts of siblings or friends who might be older or younger than themselves
Recommended for
: 7-12 year-olds who love animals, stories about the British countryside and farm life, tame pet squirrels who sit on your shoulder, or who might love the idea of living in a growing house made of willow wands.