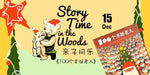 Christmas is almost here! Can you guess who's really busy at this time of the year? Join in this year's last StoryTime in the Woods for a story reading and craft-making with a focus on Mandarin oral communication and interaction, and bring home a copy of《100个圣诞老人》with you once the session is over! This session supports parent-child language immersion and is friendly to non-Chinese-speaking parents!
SPECIAL PARENT-CHILD CRAFTMAKING CONTEST: Spend some quality screen-free time together as a team and practise fine motor skills to win a brand new book! Open to all participants of this Chinese StoryTime session.
Woods in the Books believes that a good story is a good start to learning a new language, made better when parent and child explore together. Each session of Chinese StoryTime begins with a handpicked story, followed by craft or game activities based on the story. To keep the momentum going, parents and children get to bring the storybook home to read together. We wish to nurture positive attitudes towards Chinese learning (or re-learning) amongst young and old.
Who: 4 – 7 years old
When: 11.00AM – 12.30PM, Sat 15 Dec
Where: Woods in the Books, 3 Yong Siak Street
Ticket: $28* for 1 parent-child pair, $38 for 1 parent, 2 children or 2 parents, 1 child.
*includes 1 copy of《100个圣诞老人》
----
亲子同乐之《100个圣诞老人》绘本故事
圣诞节快到了!猜猜谁最忙?他们在忙些什么呢?年终欢庆佳节时分,大家来一起听故事,玩手作,带本绘本回家,再参加我们的圣诞节特备亲子手作比赛!
Woods in the Books 亲子同乐活动意在鼓励大小朋友从故事开始,(重新)发掘学习华文华语的乐趣,培养积极的学习态度。
适合4-7岁, 不愿意或没信心开口说华语的大小朋友。
日期:12月15日,周六
时间:上午11点 至中午12点半
地点:Woods in the Books
费用:$28* 一对亲子票/1大2小 或2大1小 套票是$38*
点击这里赴约:https://woodsinthebooks.peatix.com
*包含一本精装本《100个圣诞老人》