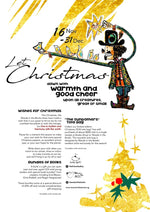 Let Christmas dawn with warmth and good cheer upon all creatures, great or small.
Wishes for Christmas
This Christmas, the Woods in the Books elves have made a wish that in our quest to thrive we do not overheat the planet or melt the icecaps, but live in rhythm and harmony with the earth. Pause for a moment this season to make your own wish for that extra special Christmas present, an excellent school year, or your own hope for the planet. Write down your wish when you come to our stores, draw or colour to make it pretty as can be, and we'll hang it up for all to see!
Bundles of Books
A book is a gift you can open over and over again! Gift avid young readers with special book bundles* from creators including Enid Blyton, Chris Riddell, and Roger Hargreaves! These bundles come at a special discount of 25% off and include complimentary gift wrapping.
*Available while stocks last.
"The Sunbathers" Tote Bag
Collect our limited edition Christmas 2018 tote bag* free with purchases of above $200 nett in a single receipt at Books Ahoy! or Woods in the Books. This reusable tote bag is designed by Woods in the Books' resident artist exclusively for the season!
*Available while stocks last.