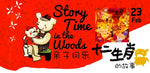 Chinese StoryTime is back in time to welcome the year of the Pig with TWO stories!
In a special original story created just for this session, follow three little pigs and discover all the fun customs and delicious food of Chinese New Year. In the other story, find out why the mouse is afraid of the cat and learn how the 12 animals of the Chinese Zodiac were chosen. This session supports parent-child language immersion and is friendly to non-Chinese-speaking parents!
Woods in the Books believes that a good story is a good start to learning a new language, made better when parent and child explore together. Each session of Chinese StoryTime begins with a handpicked story and Mandarin interaction during the session. To keep the momentum going, parents and children get to bring the storybook home to read together. We wish to nurture positive attitudes towards Chinese learning (or re-learning) amongst young and old.
Who: 4 – 7 years old
When: 11.00AM – 12.30PM, Sat 23 Feb
Where: Woods in the Books, 3 Yong Siak Street
Ticket: $35* for 1 parent-child pair, $43* for 1 parent + 2 children/2 parents + 1 child.
*includes 1 copy of《十二生肖的故事》
亲子同乐之《十二生肖的故事》绘本故事
2019首场亲子同乐,我们特别创作独家版农历猪年趣味故事,请大小朋友一起分享过农历新年有什么好玩好吃的事儿。另外,我们也准备了有趣的经典民间故事,告诉大小朋友十二生肖怎么来的?为什么老鼠会怕猫?一起来分享吧!
Woods in the Books 亲子同乐活动意在鼓励大小朋友从故事开始,一起(重新)发掘学习华文华语的乐趣,培养积极的学习态度。
适合4-7岁, 不愿意或没信心开口说华语的大小朋友。
日期:2月23日,周六
时间:上午11点 至中午12点半
地点:Woods in the Books
费用:$35* 一对亲子票/1大2小 或2大1小 套票是$43*
*包含一本精装本《十二生肖的故事》