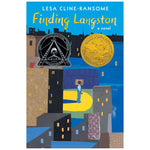 In Finding Langston, protagonist Langston discovers the power of poetry in his neighbourhood library as he grapples with grief, homesickness, bullying, and loneliness against the backdrop of 1946 Chicago. In this deftly paced novel for ages 9 and up, Lesa Cline-Ransome weaves a story awash with historical detail and filled to the brim with African American cultural heritage.
On moving from Alabama after the death of his mother, Langston finds himself struggling to adjust to a new home, school, and neighbours. It's only when he discovers the library in Bronzeville that life changes, starting with a book written by a poet who shares his name. The poems not only see Langston forging connections with the people around him, but also introduces a wealth of black literary greats, from Gwendolyn Brooks to Countee Cullen.
Poems sprinkled throughout the narrative offer a dialogue between reader and poem, signposting Langston's emotional state throughout the book. From the first gentle moment when our protagonist discovers the works of Langston Hughes, the poet who shares his name and speaks directly to his heart, to scenes of Ms Fulton reading poems to Langston, sharing the poems they love together, the power of poetry rings through all the pages of Finding Langston.
Langston's inner monologue is convincing as a black schoolboy from 1946. His narration brings up instances of discrimination as a fact of life in the past, such as Langston's father's worry over being fired and the library in Alabama barring entry to black people. Historical details about the Great Migration, Chicago Black Renaissance, and more are woven into the background, offering avenues for readers to discuss and explore African American history beyond the textbook.
At 104 pages of story, this deceptively slim volume is a love letter to poetry, libraries, and the written word as a means for readers to make sense of the world around them. A beautifully crafted story for readers aged 9 and up, especially for those with an interest in African American voices, history, and poetry.
---
If you're interested in purchasing Finding Langston from us, WhatsApp Woods in the Books at 88152446 and we'll help you out!