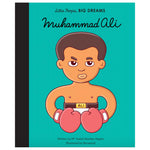 Even amongst the wealth of great biographies for younger readers today, the Little People, BIG DREAMS series stands out. The look of these hardcover volumes make them lovely gifts as well as a highly collectible introductory series to notable figures from around the world. This week, we look at the book that celebrates Muhammed Ali, legendary African American boxer and activist.
One highlight of the Little People, BIG DREAMS series is that each book features a different illustrator. While the look of the series maintains continuity from book to book, each new illustrator brings new perspectives and the series as a whole exposes readers to different styles of art, illustration, and ways of imagining.
Remembered as the greatest boxer of all time, Muhammed Ali grew up in Kentucky, USA, where he faced discrimination because of his race. Experiencing prejudice impacted his principles: not only was Muhammed Ali an advocate for African American rights, but he also protested the Vietnam War because he believed it was wrong. Although this cost him a 3 year suspension, his return to the boxing ring only saw him soar to even greater heights.
Brosmind's illustrations set the tone starting from the book's endpapers, a colourful array of action bubbles that echo Muhammad Ali's larger than life personality. Accordingly, the illustrations hew towards towards the cartoony and comic book-esque, with particular emphasis on exaggerating hands and body build, the key features for a boxing champ.
Beyond facts alone, the book holds some imaginative illustrated sequences, such as a spread of a winner's podium where the first place position turns into a flight of stairs that leads to space, echoing Muhammed Ali's lofty ambitions. This visual reference to our protagonist's desire to go beyond physical limits speaks to his aspirations as well as social justice beliefs, stylistically and coherently tying the metaphysical aspects of written and illustrated narrative together.
As an introduction to the impact of African American civil rights movements and the life of Muhammad Ali, this book is a simple and informative read, with an included timeline and photos that can help kickstart deeper conversations with kids aged 4 and up.
---
If you're interested in similar books from the Little People, Big Dreams series, or other books featuring African American protagonists and voices, WhatsApp us (88152446) and we'll help you out!