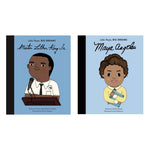 The Little People, Big Dreams series is composed of hardcover picture book biographies aimed for children aged 3 - 8. While the series began by covering famous women, it's also recently begun to feature famous men as well. This review focuses on the books featuring African American civil rights activists Martin Luther King Jr. and Maya Angelou.
Each of the Little People, Big Dreams books delivers facts about the featured figure's life in plain, clear language. A timeline with historical photographs at the end puts each figure's life in context, for readers to recap the story again. Martin Luther King Jr. came from a long line of preachers before he became a preacher himself. Maya Angelou was a cook, a streetcar conductor, a dancer, a singer, an actress before she became a poet and writer.
From childhood, the stories of both these figures are impacted by racism and injustice. Opportunities are denied to them because of the colour of their skin. The series makes clear that these injustices galvanised them both into action, to overcome their circumstances and pave the way for a more inclusive world.
While the prose in this series is relatively unadorned, the illustrations truly pop with character, bringing everyday scenes of everyday to cartoony life. From the claustrophobia of segregation during Maya Angelou's childhood years to the triumphal sequence culminating in the spread of Martin Luther King Jr.'s 'I have a dream' speech, the art depicts much about the lives of both figures.
These books are a simple but effective introduction to the African American civil rights movement for younger readers, although it need not be the stopping point. As the lasting legacy both these figures left behind lie in the powerful words they wrote and spoke, these books will spark empathy and curiosity to learn more about how Martin Luther King Jr. and Maya Angelou sought to end discrimination and injustice.
---
If you're interested in similar books from the Little People, Big Dreams series, or other books featuring African American protagonists and voices, WhatsApp us (88152446) and we'll help you out!