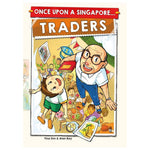 A graphic novel time travel adventure created by Tina Sim and Alan Bay, Once Upon a Singapore… Traders brings Aloysius and his Grandpa back to the days of Grandpa's childhood. Together, Aloysius and Grandpa explore the sights and sounds of Singapore in the 1900s, focusing on traders who were once part of the fabric of everyday life.
Covering milkmen, koyok men, food hawkers, clog makers, and more, this volume is chock full of historical detail. The love for its subject matter shines in every page, which switches from pages of traditional sequential art panels to informational spreads with ease.
The art instils a sense of fun and energy in the story, pairing detailed illustration with plenty of visual humour. Aloysius and Grandpa bond over Grandpa's childhood food and entertainment, made all the more convincing by the excitement both characters share over kite-flying, eating kacang puteh, and more throughout the pages of the comic.
With plenty of humour mixed in with historical fact, Once Upon a Singapore… Traders is a great read for kids aged 9 and up, with plenty to enjoy even for parents and grandparents who fancy a trip down memory lane.
---
This post is part of our series for the duration of the Circuit Breaker measures to shine a spotlight on SingLit books that we find to be uniquely encouraging. If you already own the book, perhaps you might want to dig out your copy to read again. If you don't already have it, you can purchase Once Upon a Singapore... Traders from Woods in the Books.