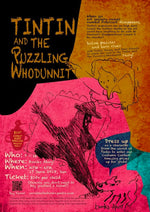 When an art gallery owner named Fourcart disappears, Tintin's suspicions are on high alert. Could the sudden deaths in the art world have anything to do with Mr Fourcart's disappearance? Could it be…murder?
Solve puzzles and earn clues with Tintin, Snowy, and their friends to crack the case in the Tintin and the Puzzling Whodunnit Party!
Come in costume as your favourite Tintin character and enter the Costume Contest to win amazing prizes! We're launching a special Early Bird ticket this year! Get your ticket now at $10* per child for a limited time!
Who: Ages 7 - 12 Where: Books Ahoy!
When: 4 - 6PM, 17 June 2018, Sun
Ticket: $15* per child (Parents, you don't need to buy a ticket!) woodsinthebooks.peatix.com
*Inclusive of $3 same-day store credit. The remainder of the fee goes towards other party costs (including prizes!). Register early so that we can prepare for the party with an accurate count of young Tintin fans attending!