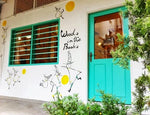 The Woods in the Books phone line is open to enquiries of all nature. Book reservations, room bookings, party favour options, overseas delivery questions, and more. These are the normal questions that callers ring up to ask.
But once in a blue moon, strange questions might pop up.
Last week, for example, someone called in to make a reservation for Sunday.
A book reservation?
No.
A reservation for our currently running Creative Residency Programme?
No.
What kind of reservation, then?
A lunch reservation.
We explained to our caller that we were a bookshop and do not take lunch reservations.
"A bookshop café?" she asked.
"Just a bookshop, I'm afraid."
I hope she found what she was looking for to fulfil her lunch plans that Sunday.