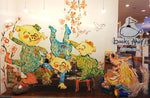 When we have book events at Books Ahoy!, we like to hold them in front of the big window, which is always dressed up in beautiful paints conjured up by the magic hands of our resident artist, Uncle Mike.
Right as we were about to begin at an event this month, one of our elves overheard a little participant commenting to his mummy.
"Whoever painted the windows must be very naughty!"
We suspect this young person might be or knows someone who's banned from using colouring materials on the walls, the floors, or even, perhaps, the windows.
Whether Uncle Mike is naughty or not is not for me to say...
But he'll be leading a Children's Day Puppet-Making Camp on 4 October!
You can sign up here!