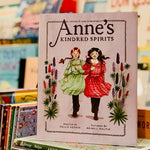 Sundays are For Reading - Anne's Kindred Spirits Inspired by L.M. Montgomery's Anne of Green Gables, a adapted by Kallie George and illustrated by Abigail Halpin
Kallie George and Abigail Halpin return with a second book in the early reader series adaptation of L. M. Montgomery's Anne of Green Gables. In this hardcover entry in the series, Anne Shirley and the Green Gables family learns some important lessons about lies and punishment.
Anne is all aflutter over meeting Diana Barry, whom she hopes to make friends with. Readers will empathise with her worries over making a good impression on a new person in the hopes of making a bosom friend. To her delight, Diana and Anne take to each other and make plans to meet up at the church picnic. But when Anne is blamed for Marilla's missing amethyst brooch and banned from her picnic, she must hatch a plan to get out of trouble.
Between the writing and illustrations, the characters of Anne's Kindred Spirits come to life. Anne's trepidation, Diana's friendliness, and the detail of the promised picnic are captured in beautiful historical detail. Although the story is abridged, it unfailingly depicts the humour and iconic elements of the original in clear language that never feels too busy or forced.
Although this book is the second in the series, Anne's Kindred Spirits works as its own standalone adventure and can be read out of order as an introduction to Anne's stories. Excellent for ages 8 and up, this lovely hardcover book makes a wonderful gift for Anne fans new and old.
=====
Get your copy at the Woods in the Books E-Store!