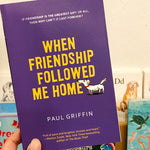 Sundays are for Reading - 

When Friendship Followed Me Home  by Paul Griffin

Why make friends when you're about to move away in less than a year? In When Friendship Followed Me Home, Ben Coffin's life changes when he meets and adopts a little dog, leading to a story of loss, connection, and being open to new experiences.

A former foster child, Ben has been adopted for two years and is due to move to Florida with his mother when the school year ends. His resolve to avoid making friends and avoid the pain of parting with them at the end of the school year is forced aside when he meets Flip, a dog who doesn't seem to have anyone else to care for it.

When Friendship Followed Me Home is no light read — alongside bullying and struggles with asthma and cancer, the prospect of loss is a running theme throughout the book. However, Ben's life would have suffered the same problems without Flip and the friends he makes with his dog at his side, giving him strength and connection to weather through life's difficult moments.

Told in first person, Ben's voice is convincing for a twelve-year-old and compellingly relatable. As Ben begins to make friends and connect with the people around him, it's through stories that he relates to people, whether classic literature, popular culture references or the Read to Rufus programme where young readers can read books with trained therapy dogs. These connections blossom into relationships that bring joy to Ben even through the hardships that come his way.

A cathartic read for ages 10 and up, When Friendship Followed Me Home is a nuanced exploration of learning not to fear life's challenges.

Get your copy at the Woods in the Books E-Store!