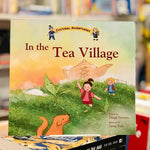 Sundays are For Reading - Cultural Adventurers: In the Tea Village by Dingli Stevens and Liang Kun
Have you ever wondered how tea is made? In this book from the creative team behind Happy Chinese New Year, Elena!, Elena and her friend Robert discover the cultural significance of tea in Chinese culture when they pay a visit to the enchanted land of the Tea Valley.
When the children land in the magical Tea Valley, they wander through a museum and learn all about tea facts and different types of tea. As they discover different factual terms and learn about all kinds of tea from oolong to salty milk tea, the illustrations depict the facts of tea farming, harvesting, and drying in details for young readers to absorb.
With many different cultural aspects woven into the story, In the Tea Valley seeks to extend the conversation beyond the book. From the act of giving tea as a gift to a Tang poem about friendship and parting to commemorate Elena and Robert's day out before they part ways for the day, there's plenty to talk about in this book. A spread of vocabulary terms based on the story can also be found at the end of the story to reinforce learning.
A great read for kids who enjoy discovering where things come from, this book is a sweet, gentle read for ages 3 and up. Into the Tea Valley is full of Chinese cultural learning and adventure, just in time for the Lunar New Year.
=====
Get your copy at the Woods in the Books E-Store!