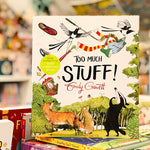 Sundays Are For Reading - 
Too Much Stuff by Emily Gravett
A pair of magpie parents, who are so concerned about getting the best for their yet un-hatched eggs, fail to notice that they've filled their nest with too many things! Set in the same woodland universe as the picture book Tidy, this Emily Gravett book tackles the subject of clutter and waste with characteristic and gentle humour.

Told in rhyme and an excellent pick for a read-out-loud story, the magpies begin their nest with the best of intentions and by taking only what is needed to construct the nest. But before long, they see a set of bicycles — just nice for their four unborn chicks — and embark down a slippery slope.

Filled with energy and humour, Gravett's illustrations of the animals that populate the book are full of character. In complement with the rhyming narrative, they capture the chaotic events and high emotion that disrupt the woodland community as the magpies make off with other animals' belongings and land themselves in a dilemma of their own making.

As the magpies' accumulation of stuff towers to farcical levels, the story comes to a close on a heartwarming note when the eggs finally hatch and the magpies learn to donate their things back to others who truly need them.

A funny, heartfelt story that reminds readers that having too much stuff can truly become a problem, this excellent read is good for ages 3 and up.

=====

Get your copy at the Woods in the Books E-Store! E-Store!