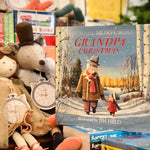 Sundays are for Reading - 

Grandpa Christmas by Michael Morpurgo and Jim Field
A heartfelt plea to look after our planet, Grandpa Christmas is a lovingly illustrated story with an enduring message rooted in family ties and a love for nature. Written by Michael Morpurgo and illustrated by Jim Field, this hardcover picture book is a timely home library addition for the season.
Every year, Mia reads a letter with her children at Christmas. Written from Mia's grandfather when she was a young girl, the letter expresses his wishes and hopes for our beautiful but fragile earth. Grandpa's descriptions of his memories of Mia's love for nature, in playing with worms or spending summers at the beach, are simple but they burst with joy. These evocative memories simply but effectively convey a world whose wonders are under threat.
Mia's grandfather comes across, in his letter, as a man of simple pleasures who wants the best for the future — not only for Mia, but for the planet. In his mind, the two go hand-in-hand, a message that Grandpa Christmas boils down to its most fundamental parts in a genial, conversational voice that kids will enjoy.
Jim Field's masterful illustrations capture the cosy warmth that Michael Morpurgo conjures up through the depth of colours and emotion in every spread of a younger Mia and her Grandpa together. These beautiful spreads stand in contrast alongside depictions of the planet under threat, conveying the magnitude of our climate emergency and how we can, together, aim for a world free from threat.
On all fronts, Grandpa Christmas is a beautiful picture book that will resonate this festive season, even as it encourages children to cast a thought how we can all change the future. Recommended for age 6 and up.
=====