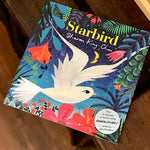 Sundays are for Reading - Starbird by Sharon King-Chai
King, princesses, and a magical bird seeking out the way home… This lyrical fable, written and illustrated by Sharon King-Chai, the illustrator of Julia Donaldson's Animalphabet, is a keeper for the home library shelf.
In the story of Starbird, the Moon King captures the magnificent Starbird as a gift for his young daughter. Starbird's song brings the little the most magnificent dreams every night. But when the princess sets Starbird free, the Moon King sets off in hot pursuit, where Starbird with the help of his animal friends hides in the night so that the Moon King doesn't catch him before he reaches home…
The language of Starbird's journey is wrapped in timeless prose, allowing the lush illustrations to carry the emotional weight of the tale. With its intricate details and generous silver foil, the dramatic art breathes movement and energy into the book. From Starbird's joy in flight to the Moon King's remorse at keeping Starbird caged, Starbird emphasises the importance of doing the right thing, in the Moon King's lesson on the value of empathy and compassion through his daughter's wisdom.
Starbird's gift for animal illustrations also takes an interactive turn during each spread of different habitats at night. Silhouettes of animals from jungle and ocean, desert and mountaintop, camouflage the shape of Starbird in a spotting game that will have young readers clamouring for more.
This lovely book makes for wonderful bedtime reading as well as a thoroughly magical Christmas gift option with its lavish illustrations, even as its interactive elements extend the book's longevity. Recommended for ages 3 and up!
=====
Click here to get your copy from the Woods in the Books e-store!