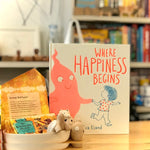 Sundays are for Reading - Where Happiness Begins by Eva Eland
Sometimes happiness may be hard to find and it might seem far away, but everyone needs happiness in their lives. In the companion to When Sadness comes to Call, Eva Eland pulls off a deceptively simple exploration of the human desire for happiness with a deft, thoughtful hand that remains age-appropriate for young readers.
With its detailed illustrations, Where Happiness Begins personifies happiness as a neon-orange figure, plump and fun-loving. The illustrations that depict the search for this elusive figure is where the book shines, accompanied by simple but evocative words to buoy the narrative along.
Even when the figure of happiness does not appear in the illustrations, the neon-orange makes its way into the illustrations in some form, providing clues as to where happiness might come from. Striking but cheerful, this figurative style offers a more visual and intuitive look at exploring complex emotions in a way that kids will find easy to make a game of. Even carrying this emotional weight, each illustrated tableau is sly and humorous.
Guiding readers through the journey of chasing after happiness when it seems impossible to find or see, the narrator's wise but funny voice speaks directly to readers, lending a down-to-earth and never preachy tone to the narrative. In sparing, poetic language, Where Happiness Begins reveals unflinching philosophical truths that will reassure young readers and pave the road for them to navigate emotional paths with added confidence!
=====
Click here to get your copy from the Woods in the Books e-store!