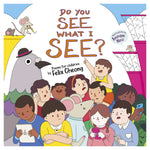 A collection of poems for children written by award winning poet and author Felix Cheong and illustrated by Anngee Neo, Do You See What I See? melds words and illustration together in a wonderful celebration of local talent, spiced up with interactive elements.
The poems run the gamut from rhyming word games to riddles that challenge kids to put on their thinking caps. The collection also introduces kids to simple social observations on queues, malls, and handphone use, filled with humour and local flavour.
Bright and bursting with colour, every illustrated spread is filled with whimsy to match the poems. The illustrations offer plenty for detail-oriented kids who like to explore the goings-on in the background of picture book illustrations. Moreover, little interactive touches tie illustration and poem cohesively together. Simple puzzles in each spread — hidden in the illustrations are words from poems and letters that spell out riddle answers — keep the book fresh for early and independent readers to explore.
A beautiful addition to a home library of local picture books, Do You See What I See? is aimed at kids aged 5 - 8, but will be appreciated by picture book enthusiasts of any age.
---
This post is part of our series to shine a spotlight on SingLit books that we find to be uniquely encouraging. If you already own the book, perhaps you might want to dig out your copy to read again. If you don't already have it, you can purchase Do You See What I See? from Woods in the Books when you WhatsApp us at 88152446.