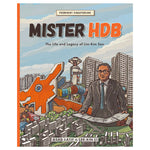 Looking for biographies with local flavour for younger readers? Check out the Prominent Singaporeans series, which highlights the lives of notable figures in Singapore's history. Today, we peek into the pages of Prominent Singaporeans: Mister HDB, the story of Lim Kim San and the beginnings of the HDB flat.
Covering Lim Kim San's life from childhood, the narrative draws a parallel between Lim Kim San's wartime experiences and his stance against the injustices suffered by the poor. When he gains the chance to head the Housing Development Board, it's shown as a chance to provide for people who lived in 'dirty, overcrowded slums' without running water or proper toilets. 
Despite the rapid pace of HDB flat construction (a rate of 1 flat per 40 minutes!), Lim Kim San made certain to personally inspect flats for shoddy work. Any flats that were not up to proper living standards were ordered to be redone. For housing and bringing modern convenience to an entire nation, Lim Kim San thus garnered the title of 'Mister HDB'.
Lee Xin Li's illustrations mix realism with a drawing style that remains cartoon-esque and emotionally expressive. Even as the book hews to a more realistic and photographic colour palette, its use of contrast is evocative. Lim Kim San's childhood years begin with lots of lighter colours before deepening into shadows of the Japanese Occupation and post-war years and then brightening up again, echoing mood and narrative story arc.
As an introduction to the history of the HDB flat and the life of Lim Kim San for readers aged 4 and up, Prominent Singaporeans: Mister HDB is an inspiring and timely story for younger readers to enjoy.
---
This post is part of our series to shine a spotlight on SingLit books that we find to be uniquely encouraging. If you already own the book, perhaps you might want to dig out your copy to read again. If you don't already have it, you can purchase Prominent Singaporeans: Mister HDB from Woods in the Books when you WhatsApp us at 88152446.