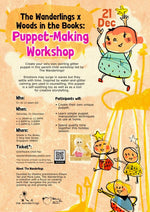 Create your very own swirling glitter puppet in this parent-child workshop led by The Wanderlings!
Emotions may surge in waves but they settle with time. Inspired by water-and-glitter calming jars used in counselling, this puppet is a self-soothing toy as well as as a tool for creative storytelling.
Participants will:
- Create their own unique puppet.
- Learn simple puppet manipulation techniques to use at home.
- Spend quality time together this holiday season.
Who: 5+ to 12 years old
When: Saturday, 21 December
- 11.00AM to 12.00PM
- 2.00PM to 3.00PM
- 4.00PM to 5.00PM
Where: Woods in the Books, 3 Yong Siak Street, Singapore 168642
Ticket*: $30/Parent-Child Pair
woodsinthebooks.peatix.com
*Not inclusive of Peatix handling fees, inclusive of materials to make 1 puppet.
About The Wanderlings
Founded by theatre practitioners Ellison Tan and Myra Loke, The Wanderlings is a collective with a focus on creating work that navigates the journey of growing up and growing old.