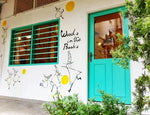 "You know, " a customer said to me yesterday, "I used to read those when I was a kid."
"Ah," I said, "So did I!"
We were talking about Roger Lancelyn Green's stories of myth and legend, all stories retold in his own words of old-fashioned heroism and derring-do featuring such characters as King Arthur and Robin Hood. Norse gods and Greek heroes stride tall and proud through the pages, brought to life in poetic phrases that perfectly depict these tales of wonder and imagination.
Most notably, for the sake of our conversation, Roger Lancelyn Green wrote The Battle of Troy.
A retelling of a fairly famous episode from Homer's Iliad, The Battle of Troy as a child led this particular customer to develop an interest in the original text.
"A lot of people have difficulty reading The Iliad," he told me, "but I never did." In reading The Battle of Troy first, getting a handle the sprawling cast of characters in The Iliad, which is often where people get tripped up, was rather a reunion with old friends.
Did he still have his Roger Lancelyn Green books with him? To tell the truth, he had lost them along the way, but a few years ago he'd tracked his childhood editions down and bought the lot once again. Seeing newer editions of those childhood books sitting on the Books Ahoy! shelves had reminded him of that journey all over again.
That little beginning in The Battle of Troy led to an interest in learning Latin turned into a career working in politics. All from reading a book as a child.
And where did my Roger Lancelyn Green reading bring me? Well, I have a lovely hardcover copy of The Adventures of Robin Hood sitting on my own bookshelf at home, and that led me to discover through a conversation yesterday that there are Latin editions of the classic Asterix and Obelix comics existing out there in the world. Isn't that fascinating? Isn't it strange where childhood reading can lead you even years and years down the road?
Roger Lancelyn Green's children's books can be found at both Woods in the Books and Books Ahoy!